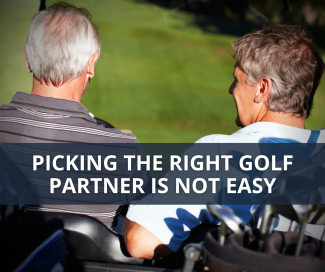 Picking the Right Golf Partner is Not Easy
It's not that different from picking the right financial professional
Have you ever thought about what kind of golf partner best suits your game? Maybe you have an upcoming member guest or are considering joining a local four-ball league this summer? Turns out picking a golf partner is a lot like selecting a financial professional.
Let's explore this concept by taking excerpts directly from an article written for Golf Digest by Mr. Ross Goodner in 1984. The article was titled: Picking the Right Partner and while you will hopefully learn how to select your best golf partner, the suggestions can easily be applied to selecting a financial professional best suited to you.
The Cardinal Rule of Matchmaking
In golf, never select a partner who carries the same handicap as yours. You want your partner to get strokes on holes where you don't get any.
(In financial planning, never select a financial professional without some life experiences or education that is different from yours.)
Now that we've established the Cardinal Rule of Matchmaking, let's examine the different types of players and determine which ones complement each other best.
The basic weekend game in this country is four-ball match play, in which two golfers play their better ball against the better ball of two others. In such competition, the bottom line is net birdies, or, in other words, getting pars on holes where handicap strokes are assigned.
Conversely, the worst thing that can happen to a partnership is for both players to get a net bogey. The ideal, then, is for one partner to have a relatively low handicap and be the kind of player who seldom has a really bad hole. The other player will have a higher handicap, but with the potential to get pars or even an occasional birdie.
Golf's Handicap System
Golf is a wonderful game because players of different abilities can evenly compete with one another. And for that, we can thank Mr. Dean Knuth.
Dean Knuth is a 1970 graduate of the U.S. Naval Academy and a 1978 graduate of the Naval Postgraduate School, earning a Master of Science degree in Systems Technology. In addition to inventing a classified tactic for locating Soviet nuclear submarines during the Cold War, Mr. Knuth is the prime developer of the USGA's Course Rating and Slope Rating System that is the System used throughout the United States and in most foreign countries today.
From years of statistics, Knuth has determined that there are three basic types of golfers: 
Steady Eddie. A fairly short but straight hitter who is deadly around the greens. His last 20 scores don't vary by more than five or six shots, and his handicap is only about one stroke below his average. Steady Eddie is strong in match play because he usually plays close to his handicap. He is not strong in stroke play because he rarely beats his handicap, and not by much if he does.
Wild Willie. A long and inaccurate hitter who is not deft around the greens. His scores vary by perhaps as much as 20 or more strokes over his last 20 rounds. His handicap is often four or more strokes lower than his average. Wild Willie is strong in stroke play because on occasion he has great potential to beat his handicap by a lot. He is weak in match play because his variability has caused his handicap to be well below his average performance. 
Average Andy. A player who is neither unusually long nor exceptionally straight, whose handicap is about 2.5 strokes below his average score, who is about as strong in match play as in stroke play – who is, well, average. 
The Right Temperament
You also need a partner with the right kind of temperament. The best partnership is one in which both players know their capabilities and limitations, and have the patience to play their normal games. Too often the high-handicap partner gets frustrated because he isn't helping the team and the low handicapper gets frustrated because he isn't getting any help. When that happens, the team invariably loses.
Another thing a team can do without is a player with a low boiling point. There are countless golfers who, after hitting a couple of bad shots, fall to pieces and are virtually worthless to the team thereafter. And there are an equal number of players who can sense this weakness in an opponent and quickly take advantage of it with some adroit needling. Avoid the partner who loses his cool. 
A Winning Attitude
Temperament – or attitude – is an intangible thing, but if it is present in the right proportions, it can produce tangible results. Call it a winning attitude. A winner doesn't have to be a bad guy, but he is a little meaner and tougher than most when he has to be; certainly, he doesn't get soft-hearted or careless when he gets his opponents a couple of holes down.
A classic example was the odd-couple partnership of Ben Hogan and Jimmy Demaret, who won a number of four-ball titles together. Hogan would often chide Demaret for joking with the gallery and seemingly having his mind elsewhere than on the match. "But Ben," Demaret would say, "we've got these guys 3 down!" To which Hogan would respond, "Yeah, but if we pay attention to business we can get them 6 down." That's a winning attitude.
Knowledge Pays Off
It helps if you have some knowledge of how your prospective partner achieved his handicap. If it is based on scores shot in casual weekend rounds, when nothing much was at stake and most short putts were conceded, it might be a bit low. A player whose handicap is based mostly on competitive rounds and who is accustomed to holing short putts under pressure will likely be more reliable. 
Someone You Enjoy Being Around
Most important, your partner should be someone you enjoy playing golf with. Camaraderie may not make you any money, but neither will an adversary relationship with your partner. Also, your partner should be competitive enough to be aware of what is happening in the match and on what holes they receive strokes.
The partner who makes a 6 and then says, "Gee, I forgot I got a stroke on that hole," is worthless to you. And finally, your partner should be a player who, no matter how great the handicap, can summon up that little bit of adrenaline and save par when you need it desperately.
Final Thoughts from a Financial Professional
So, I ask you, "what kind of golfer are you?"
Are you an Average Andy or a Steady Susan? And what kind of financial professional would best fit your financial personality?"
Important Disclosures: All information is believed to be from reliable sources; however LPL Financial makes no representation as to its completeness or accuracy.
The article was prepared by RSW Publishing.
LPL Tracking 01-959218