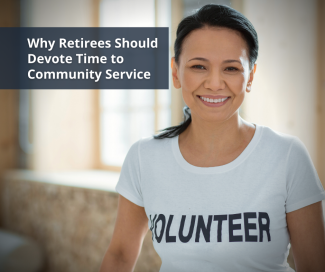 Why Retirees Should Devote Time to Community Service
After retirement, you may find you have more time on your hands than you first anticipated. If you are looking for something to fill your downtime that may be fulfilling and beneficial to your health and wellbeing, community service may be an option for you. Below are just a few benefits retirees may enjoy by devoting some time to community service.
Improved Physical and Mental Health
Community service activities typically provide stimulation for both your mind and your body. Many retirees who volunteer report better physical health and less anxiety. When you volunteer, your stress may be reduced as the positive feeling volunteering evokes helps release dopamine, which leads to greater relaxation. Reduced stress in life may lead to better overall mental health as well as physical health.1
A Better Understanding of the Younger Generation
Through community service volunteer work, you may interact with younger generations. This may help you learn a little about newer technology, ideology, and problems the more youthful generation may face. At the same time, you may be able to impart your wisdom and guidance, providing important life lessons. By building a better rapport, you may both learn to better respect each other and what each of you brings to the table.2
A Sense of Purpose
When you retire, it may seem like fewer people rely on you, or your life may lack as much purpose and direction as it did when you were in the workplace. By providing help and services for those in need, you may find you have a renewed sense of purpose, one that may seem even more fulfilling than your job. As a volunteer, you may be providing essential activities that give you something to look forward to each day and provide you with the feeling of accomplishment for a job well done.1
Increased Confidence
Community service organizations are not only looking for people to help with their service physically, but they are also looking for people with passion and experience who bring their knowledge to the organization. As a retiree, you may have vast knowledge and experience from your many years in the workplace. Being able to pass on this knowledge to help community organizers with their goals may improve your confidence and give you the motivation to strive to accomplish more.2
Less Loneliness and Depression
When you don't have to report to work every day, it is easy to become more confined to your home. Yet, when you fail to get out of the house and begin to isolate yourself, it may lead to depression and loneliness. Volunteer work may help to get you out of the house and also help you to get to know new people that you may form new relationships with.2
Improve your mental, physical, and social health during retirement while providing services to help others by volunteering your time with a local community service organization.
Footnotes:
1Helping people, changing lives: 3 health benefits of volunteering, Mayo Clinic, https://www.mayoclinichealthsystem.org/hometown-health/speaking-of-healt....
2Five Benefits of Volunteering in Retirement, seniorcommunity.org, https://seniorcommunity.org/five-benefits-volunteering-retirement/
Sources
https://www.mayoclinichealthsystem.org/hometown-health/speaking-of-healt....
https://seniorcommunity.org/five-benefits-volunteering-retirement/
Important Disclosures
The opinions voiced in this material are for general information only and are not intended to provide specific advice or recommendations for any individual.
All information is believed to be from reliable sources; however LPL Financial makes no representation as to its completeness or accuracy.
This article was prepared by WriterAccess.
LPL Tracking #1-05241799