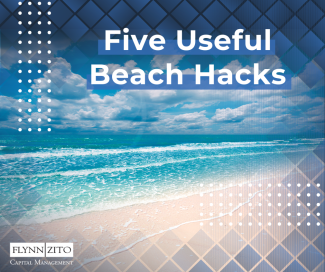 There's certainly a reason why trips to the beach are one of the most desired summer vacations. From basking in the sun to indulging in delicious boardwalk treats, a beach trip is sure to create unforgettable memories with both friends and family.
However, if you're not properly prepared, beach trips can be a hassle and turn into a disaster. This summer, use these hacks to help you avoid any fiascos and experience the relaxation that you so desperately need.
Freeze Water Bottles 
To put it lightly, lugging your cooler from the car and through the sand is a pain. Instead of packing ice packs to keep your food cold, freeze water bottles. Not only will your food stay cooler for longer, but you'll also have ice-cold water bottles to drink throughout the day. Once you're ready to leave the beach, you'll be hydrated and your cooler will be noticeably lighter—a definite win-win!
Keep Electronics Safe 
It's too easy for your keys and phone to get lost at the beach; they can get buried in the sand or fall into the water, among other potential pitfalls. Searching for a cost-effective holder? Consider a plastic peanut butter jar! It's as easy as emptying a jar of peanut butter, rinsing it, and bringing it along with you to the beach. Your keys and phone will   be stored safely, reducing the chance of a panic situation at the end of the day.
Pack Baby Powder 
Lying in the sand sounds like a great idea—until it's time to leave and it's stuck to your body. Cue the baby powder! Believe it or not, baby powder quickly removes sand from your body. In fact, it removes the moisture from your skin, allowing the sand to practically fall off of all areas. Be sure to keep a bottle in your beach bag—it'll cut down on the time it takes you to get ready to leave!
Track Your Sunscreen Application 
It's important to stay protected from the sun's rays. However, between building sandcastles, running in and out of the water, and falling asleep on your towel, remembering to regularly apply sunscreen can be challenging. But not to fear! Bring a permanent marker, and write on the bottle the next time you need to reapply. It acts as a quick and easy reminder.
Make Aloe Vera Cubes 
Nothing can kill a beach trip quite like a painful sunburn. If your sunscreen application falls short, frozen aloe vera cubes can come to the rescue. Fill an ice cube tray with aloe vera, pop it into the freezer, and pack the cubes in your cooler. Not only will they bring you quick relief, but they will also ensure that you'll be more conscientious about sunscreen the next time around.
LPL Tracking #1-05149484