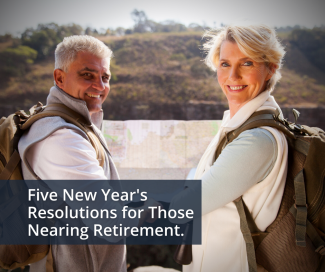 Five New Year's Resolutions for Those Nearing Retirement
Getting ready for retirement is both exciting and daunting. While you are likely looking forward to the enjoyment and relaxation that retirement may bring, you are also cautious about ensuring you have enough money to be able to retire in the comfort you anticipate. If your retirement years are on the horizon, below are a few new year's resolutions that may help put you on track.
1. Add Funds to Your 401(k) and then to Your Individual Retirement Account
Funding your 401(k) to the maximum limit means you take advantage of the maximum employer-matching contribution. The maximum employee contribution limit for 401(k) plans increases from $19,500 in 2021 to $20,500 in 2022.  If you are already maxing out contributions to your employer-sponsored 401(k), consider funding your individual retirement account (IRA) as well.
You are permitted to have a 401(k) and an IRA; however, whether your contributions to your IRA are tax-deductible depends on your adjusted gross income. The IRS Publication 590-A, found on IRS.gov, shows how to calculate your deduction.
For 2021 and 2022, the IRA contribution limits remain the same. All workers up to the age of 50 are able to make a regular contribution to their IRA of up to $6,000 per year. For those over the age of 50, the amount rises to $7,000, which is allowed as a catch-up contribution. If you have the means to add to your IRA each year, it is a great way to increase your account and build it up to your retirement date.
2. Run a Projection Analysis for Your Retirement
Those dealing in the financial world run projections all of the time to help them stay on track and put them in a good position to work toward their goals. So why not use a projection estimate to analyze your possible retirement path? Run a projection based on your contributions and the number of years left before your retirement to get an idea of where you may be when retirement comes.
3. Develop a Plan for Health Expenses
One of the most significant expenses that may use retirement funds and has the ability to derail even the most well-laid plans is health expenses. Health care costs may increase as you age. In many cases, Medicare may not cover all medical expenses. When determining the funds, you may need to retire comfortably; make sure to include a buffer for costly medical expenses.
4. Get Out of Debt
Retiring with a large amount of debt may make your retirement more stressful and your goals more challenging to work towards over time. Consider for your retirement plan, paying down as much debt as possible so that you will enter your retirement with as few monthly obligations as possible.
5. Give Your Credit Score a Boost
While you likely will not want to add debt by taking out loans in retirement, you will want to have the ability to do so if the need arises. If you have to borrow money, a low-interest rate is helpful to keep your overall debt lower. Paying down debt, paying your bills on time, and having a good mix of credit in good standing are all ways that may help improve your score.
Important Disclosures:
This material was created for educational and informational purposes only and is not intended as ERISA, tax, legal or investment advice. If you are seeking investment advice specific to your needs, such advice services must be obtained on your own separate from this educational material.
All information is believed to be from reliable sources; however LPL Financial makes no representation as to its completeness or accuracy. To determine which investment(s) may be appropriate for you, consult your financial professional prior to investing.
This article was prepared by WriterAccess.
LPL Tracking # 1-05210624
Sources:
20 New Year's resolutions to make your retirement dreams come true, Market Watch, https://www.marketwatch.com/story/20-new-years-resolutions-to-make-your-...
10 Financial New Year's Resolutions for 2021, US News & World Report, https://money.usnews.com/money/personal-finance/saving-and-budgeting/sli...
Retirement Topics - IRA Contribution Limits
https://www.irs.gov/retirement-plans/plan-participant-employee/retiremen...
Publication 590-A (2020), Contributions to Individual Retirement Arrangements (IRAs)
https://www.irs.gov/publications/p590a#en_US_2020_publink100074297
IRS increases limits for 401(k) plans to $20,500 for 2022, leaves individual retirement accounts unchanged
https://www.cnbc.com/2021/11/05/irs-increases-2022-limits-for-401k-plans...