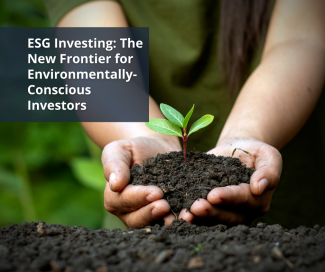 ESG Investing: The New Frontier for Environmentally Conscious Investors
Environmental, Social, and Governance (ESG) investing is on the rise throughout the world. A 2018 study from Harvard University's Kennedy School of Government found that ESG investing now accounts for nearly $30 trillion, which is more than one-fourth of all assets under professional management worldwide.1,2 Here are some definitions and considerations to make when diving into the ins and outs of ESG investments.
What's an ESG Rating?
This upward trend in ESG investing may be driving some companies to pay more attention to their ESG scores, which are typically determined by third-party independent research groups.3 ESG ratings usually follow a 100-point scale:3 The higher a score generally means a company is managing its environmental, social, and governance risks well relative to its peers, while a lower ESG rating usually reveals the company has a higher exposure to ESG risks.1 
Environmental Impact
The environmental component of ESG investing determines how much of a negative impact the company has on its natural resources.2 This includes water, waste management, and energy consumption. Some environmental impacts that may affect a company's ESG score include2:
The net carbon emissions a company produces.
The amount of air and water pollution a company creates.
The efficiency of a company's waste-management practices.
Social Impact
To determine a company's social portion of its ESG rating, you may want to examine factors such as2:
The diversity of the company's employees, including LGBTQ+ members, gender, and race.
The company's community relations and impact.
The company's engagement with employees.
Governance Impact
Governance refers to how the company's management and board of directors govern, including labor practices, executive compensation, and the board composition. Factors that will affect their ESG score in governance include2:
Whether the company engages in fair labor practices.
What type of political contributions the company has made.
The company's tax transparency, accounting practices, and overall business ethics.
Benefits to ESG Investing
While most investors agree that there isn't a "one size fits all" approach to ESG investing,2 it does have many advantages that seem to be gaining momentum, and these types of investments certainly can't be ignored. Their benefits include:
Combating social justice and climate change.3
Influencing positive societal changes.1
Identifying low risk and valuable long-term investments.1
ESG investors may want to seek the recommendations of a financial professional who has experience in this area. It may take some time to build a comprehensive portfolio that is both focused on ESG investing and able to generate a significant financial return. Yet in the end, your investments may offer you financial well-being as well as confidence as a positive change-maker in the world.
Footnotes
1ESG Investing 101, U.S. News & World Report, https://money.usnews.com/investing/news/articles/what-is-an-esg-score
2Your complete guide to investing with a conscious, CNBC, https://www.cnbc.com/2019/12/14/your-complete-guide-to-socially-responsible-investing.html
3Environmental, Social and Governance: What is ESG Investing?, Forbes, https://www.forbes.com/advisor/investing/esg-investing/
Important Disclosures
The opinions voiced in this material are for general information only and are not intended to provide specific advice or recommendations for any individual security. To determine which investment(s) may be appropriate for you, consult your financial professional prior to investing.
Socially Responsible Investing (SRI) / Environmental Social Governance (ESG) investing has certain risks based on the fact that the criteria excludes securities of certain issuers for non-financial reasons and, therefore, investors may forgo some market opportunities and the universe of investments available will be smaller.
All information is believed to be from reliable sources; however LPL Financial makes no representation as to its completeness or accuracy.
This article was prepared by WriterAccess.
LPL Tracking #1-05267162