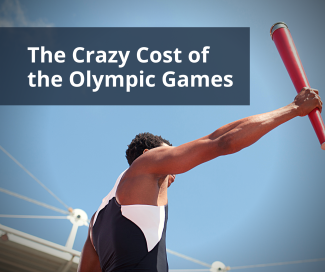 The Crazy Cost of the Olympic Games
Since the first modern Olympic games in 1896, the competition has been a prestigious honor for the hosting country, but also a significant economic and structural undertaking. Billions of dollars are put toward the construction of new stadiums, lodging, and other facilities, not to mention the opening and closing ceremonies, which can bring in millions in additional costs.
Though the total expense has been over-budget for every host country since 1968, there are some that have truly gone above and beyond.
Montreal, 1976
The 1976 Summer Olympics held in Montreal was marked by incredible performances from some of the most recognizable athletes in history, like Nadia Comancei's uneven bar routine, which earned her the first ever perfect score. However, the '76 games were also among the most expensive in history, blowing past the original budget of $207 million with a total expense of more than $1.4 billion. Taxpayers were indebted so much money, the city introduced a special tobacco tax to help alleviate the financial burden.
Moscow, 1980
Though controversial, the 1980 games in Russia were also some of the most memorable, and marked a turning point in helping open up Russia's borders to the rest of the world. The country spared no expense for the event, spending a whopping $1.3 billion dollars which set citizens back more than $1.9 billion.
Athens, 2004
For the 2004 Summer Olympics, the games were taken back to where it all began—Greece. Although the historic event was a huge milestone for Athens, which hadn't hosted since the first modern games in 1896, it is partially responsible for the financial crisis that still plagues the Mediterranean country today. Taxpayers contributed more than $6 billion to the cause, which eventually resulted in more than $14 billion in profit loss.
Sochi, 2014
The Sochi Winter Games were rattled with conflict. Unmet construction deadlines and less-than-desirable conditions put Russia under scrutiny for their handling of the event. Even so, the country spent more on the games than any other in Olympic history—an unbelievable $51 billion.
Though an extreme amount of time, energy, and money goes into planning the games, they are always an incredibly moving and thrilling experience for the thousands of athletes involved, as well as the host country and the millions of viewers tuning in at home.
LPL Tracking # 1-05144501