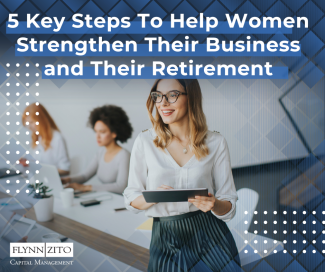 5 Key Steps To Help Women Strengthen Their Business and Their Retirement
As a female entrepreneur, you may face different challenges than your male counterparts. For example, women were disproportionately affected by the COVID pandemic. 1 They also tend to earn less than their male peers—largely in part because they are still responsible for the majority of the world's unpaid labor. To counteract these challenges, women must be proactive about strengthening their businesses and preparing for retirement. Keep these five key tips in mind.
1. Focus on the Future
When you run a business, it is easy to become overwhelmed by the daily demands. You may be busy trying to land prospects, close deals and fine-tune your marketing. It is hard to think about tomorrow when the present day is stressful. But you must prioritize the future in terms of short-term weekly and monthly goals and long-term plans. Think about what you want your business to be known for and what you want for yourself.
2. Invest in Your Retirement
As an entrepreneur, you may pour all your resources into your business, but you must also consider yourself. What do you want to do for your retirement? How much do you need to save to afford that lifestyle? Start identifying these goals and working toward them. You may want to consult with a financial professional for help.
3. Consider Offering Retirement Accounts to Your Employees
Have you thought about offering retirement accounts to your employees? Regardless of the size of your business, there is likely to be a cost-effective retirement account that is easy to manage. Small businesses may want to explore options such as a Simplified Employee Pension (SEP), Savings Incentive Match Plan for Employees (SIMPLE) IRA Plans or Payroll Deduction IRAs. Larger companies may want to stick with the classic 401(k).
Improving your benefits packages may help your company attract and engage talent more effectively. By helping your employees save for retirement, you may also help to lower their stress levels. This strategy may potentially improve their focus and boost your organization's productivity levels.
4. Set Up Passive and Recurring Revenue Streams
Passive revenue streams may help you cover expenses when you no longer want to participate in the daily grind. Look for ways to build passive revenue from your business. Depending on the nature of your business, passive revenues may include subscriptions, rental income, investment income, or a vast range of other options. At the same time, look for opportunities for recurring revenue. This effort helps safeguard your revenue streams and may also help make your business more attractive to investors.
5. Make Sure Your Business Runs Well Without You
If you eventually plan to sell your business, you need to let it run without you. A company with a well-qualified management team and a strong customer base is more attractive to acquirers. In contrast, if you need to play a hands-on role in your company, it may be much harder to sell the company to fund your retirement.
Important Disclosures
The opinions voiced in this material are for general information only and are not intended to provide specific advice or recommendations for any individual security. To determine which investment(s) may be appropriate for you, consult your financial professional prior to investing.
All information is believed to be from reliable sources; however LPL Financial makes no representation as to its completeness or accuracy.
This article was prepared by WriterAccess.
LPL Tracking #1-05313101.
Footnotes
1 5 ways women and girls have been the hardest hit by Covid-19, Oxfam,
https://www.oxfam.org/en/5-ways-women-and-girls-have-been-hardest-hit-co...