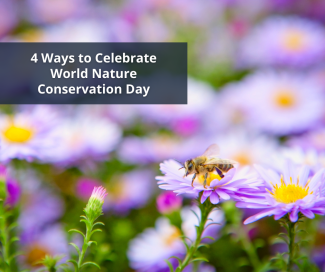 4 Ways to Celebrate World Nature Conservation Day
July 28th is a day when we acknowledge the importance of conservation to ensure a stronger future for the next generations. So how do you do your part and mark the occasion? By finding small ways to conserve in your everyday life. Check out some of the easiest ways to celebrate World Nature Conservation Day.[1]
Focus on Water Consumption
Water is something in the United States that is often taken for granted.[2] Obtaining it is as easy as turning a knob, which makes people fail to realize how that precious resource may one day become scarce.
Start by thinking about how many times you may be wasting water a day and spend the day, or even the week trying to develop new habits. Turn off the faucet when you brush your teeth. Consider taking a bath instead of a shower. Find the perfect time of day to water your lawn when it will need less water. Or, if there is rain in the forecast, let nature help your lawn to grow.
Grow Your Own Food
While it is easy to make a simple trip to the grocery store to get what you need, growing your own food provides you with natural options and helps you to better appreciate what goes into providing sustenance for your and your family. When you put the time and effort into creating, maintaining, and harvesting your new food garden, you may be less likely to waste your food. This awareness may cross over to the other food products your buy.
Enjoy a No-Car Day
Why not show your support for the conservation of fossil fuels and the reduction of pollution by ditching your car for the day? Bike, walk, or use public transportation to help get you to and from your daily activities. If you have a long commute and no public transportation, consider carpooling with co-workers who live close by.
Plant a Tree
Have the perfect spot for a shade tree? Or know of the perfect place to add some color with a flowering tree? Trees are a valuable resource in many ways beyond their beauty. They provide birds, insects, and animals with food sources and shelter. They provide shade to reduce the amount of heat that gets into your home. They even help provide oxygen for the air you breathe.[3]
Try one of the ways above to mark this year's World Nature Conservation Day. Or better yet start some new habits to follow throughout the year.
https://www.business-standard.com/article/current-affairs/world-nature-c...
---
[1] https://govbooktalk.gpo.gov/2020/07/27/world-nature-conservation-day/
[2] https://www.nytimes.com/2016/10/20/opinion/for-these-americans-clean-wat...
[3] https://www.nwf.org/Trees-for-Wildlife/Wildlife-Benefits
Sources
https://govbooktalk.gpo.gov/2020/07/27/world-nature-conservation-day/
https://www.nytimes.com/2016/10/20/opinion/for-these-americans-clean-wat...
https://www.nwf.org/Trees-for-Wildlife/Wildlife-Benefits
LPL Tracking 01-05142150